A 20-year short term trip!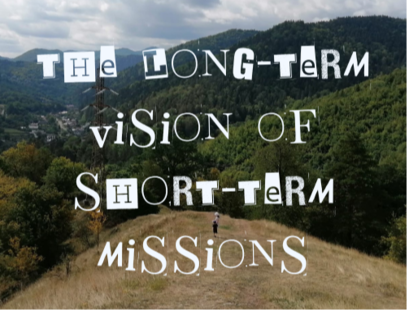 12/09/2023, 03:45

12/09/2023, 03:45
In August 2003 I arrived in Piatra Neamt for the first time as part of a short-term missions team from Tanterton Christian Fellowship. 20 years later I have two children registered at the very school where I was involved in sports evangelism during that first trip!
The goal of any short-term missions trip ought to have longer-term aims in mind. This does not mean that every short-termer should marry and settle down in the places they go and serve! But it does mean that short-term overseas missions trips ought to mean something more than just a summer get-away or something to look good on the CV!
The Apostle Paul had long-term vision for short-term missions. For example, we read in Acts 16:12 that he and his team stayed in Philippi 'for several days.' During their short stay they shared the Gospel and Lydia and her household were baptised. Furthermore, a woman was cleansed of an evil spirit, Paul and Silas were flogged and imprisoned, they were miraculously freed, and the jailer and his whole family received the Gospel. What an action-packed few days!
Paul not only returned later to Philippi (see Acts 20:1-6), but he wrote to the Church thanking them for their partnership in the Gospel (Philippians 1:5). One commentator suggests Paul had known some of the people he was writing to for more than ten years (bibleq.net/answer/673/). Paul's vision for short-term mission was not for gaining experience, it was for furthering the Gospel to the ends of the earth. He finishes his letter to the Romans to this effect... 'so that all nations might believe and obey him'' (Romans 16:26).
By my own admission, a big part of me wanted to come to Romania in 2003 for the experience and for enhancing my CV. Never did I think that 20 years later I would still be serving here. But God in his grace has taught me the importance of long-term vision in short term missions. Little did I know that God was using my short-term mission trips every summer to prepare me for long-term overseas service.

Not everyone is to be sent as a long-termer overseas. But we are all called to be partners in the Gospel in whatever shape or form that may take, and short-term missions can help ignite a passion for missions both at home and on the field. Therefore, short-term missions can be of great value.
But there is a growing need for long-term missionaries. Recent research undertaken by the Center for the Study of Global Christianity has found that 'the proportion of long-term missionaries from the Global North is on the decline' whereas 'there has been a dramatic explosion of the number of short-term missionaries, particularly youth' (Zurlo, G. A. Johnson, T. M. & Crossing, P. F. World Christianity and Mission 2021: Questions about the Future).

The challenge for Churches and Missions Agencies alike it for short-term missions to not only develop meaningful long-term Gospel partnerships, but for Christian hearts to grow deeply for world missions. Eddie Arthur helpfully concludes: ''mission work is by its nature a long-term venture. This is something our short-term culture needs to grasp'' (kouya.net/?p=5891).
Ioana and I set-out in 2014 on a two-year overseas mission here in Piatra Neamt. 2 years has now become 9 and a half years. So we are extremely thankful to God for you, for your long-term support, and your heart for overseas missions in Romania!