Insights into ministry in Greece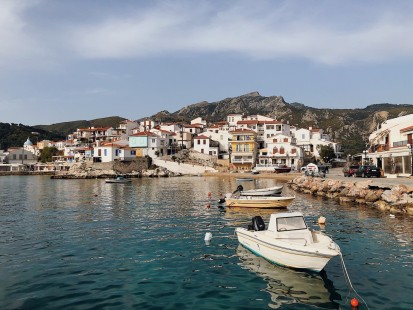 Tuesday 24 October 2023

14:28
Irish ECMer Anna Crawford gives a look behind the scenes regarding what it is like to work in Greece.
Working on the island of Samos was an adventure, a stretching and challenging experience, but so rewarding. It was an unknown to me especially as I didn't know anyone on the team serving in the purpose -built refugee camp.
It was stretching because I had never driven on the right-hand side on hilly slopes.
It was challenging because I had never planned Sunday services or done the teaching each Sunday.
It was deeply fulfilling because I got to have weekly member care (pastoral care) conversations with each team member and have an input into their lives.
It was fun cooking meals twice a week for an international team.
It was humbling to be part of a team who always made sure I was included in any impromptu activities…I was never made to feel my age.
It was eye-opening to see this group of young people so eager to serve the refugees.
It was also familiar - the member-care situations, the training I gave on cross-cultural issues, going into the refugee camp and seeing the desperation in some people's faces.
It was also dehumanising - the long, long process the refugees have to go through to get any type of visa.
So what's next?
I feel ready to do a longer stint. So, I plan on being in Athens until early December.
I will be staying in an 'open house' run by a young Swiss Christian worker who has different people staying in the apartment and offers meals and hospitality to those in need. It will be an interesting experience for me and I am looking forward to it.
• Threads of Hope (https://threadsofhopehellas.org) - I will be volunteering with this project (training women who have been rescued from trafficking and prostitution) twice a week.
• Petalouda Project - I will be teaching English (TEFL) to another key leader, Ivan, possibly one day a week. The Petalouda project works with the Roma community on the outskirts of Athens. One of the aims of this project is have a church plant initiated.
Kypseli church plant - I hope to attend this very strategic church plant in the centre of Athens and contribute where I can with my basically non-existent Greek.
Thank you for the way your prayers carried me through my time in Samos. I was very conscious of God's nearness throughout my time there.
Find out more about Anna's ministry here