Abel & Rafi Nuño
Estefanía and Samuel
Our deepest desire is to be used by God for others to follow in the footsteps of Christ as his disciples, and for them to be fully equipped to undertake the responsibilities God has given them in the place where God has placed them.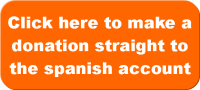 At ECM we believe that Europe needs the gospel. Despite being the center of Christianity for centuries, today Christianity is decreasing in Europe.
Many years of secularism, immigration and a growing standard of living have replaced faith in Jesus with a variety of beliefs and lifestyles. Europe has become a complex, multicultural and religious continent filled with changes.
Abel and Rafi met at the Evangelical Seminary (IBSTE) in Castelldefels (Barcelona). Both had a very clear call from the Lord to preach the gospel in pioneering ministry. On finishing their theological training, they moved to Peñarroya-Pueblonuevo to join the ECM team. After eight years of service they left the small congregation to the charge of colleagues, and moved to Cabra. There they took on the responsibility of a small congregation (6 members) that, by the grace of the Lord, grew to 35 in 2012. At that time, Rafi's mother was in need of urgent care, so they moved to Alcalá la Real, where they currently serve.
They have two children, Estefania and Samuel, who have long since "flew from the nest". They were married in 2014. Samuel and his wife Natalia live in Zaragoza and Estefanía and her husband Marcos in Vilanova i la Geltrú (the town of Abel in Barcelona). Both have made them grandparents of two beautiful children (Valentina and Marcos respectively).
The goal in Alcalá is to "sow the seed of the gospel" pleading with the Lord to make it "germinate" and to raise a congregation that glorifies him among their neighbours. In pursuit of this objective, they have become volunteers in the Red Cross social program and in other community groups in the town, in order to build relationships that give opportunity to share, in a clear and personal way, the salvation that God offers in Christ. They have also organised other activities such as Conversational English workshops in summer, exhibitions with Christian themes, etc.
Abel also lecturers in Christian Ethics at the Faculty of Theology in La Carlota (Córdoba). Rafi participate in the University Senior Program, the Adult School and Group Gymnastics, all in order to build relationships; a strategy that has been very effective in the past.
They thank the Lord for the privilege of serving him in his work and experiencing every moment his kindness, grace, mercy and love in multiple ways. "How great is Your goodness, which You have stored up for those who fear You, which You have wrought for those who take refuge in You, before the sons of men!" (Psalm 31.19)